Olivier Palmieri – Beyond Gaming, Ubisoft Initiatives in Digital Education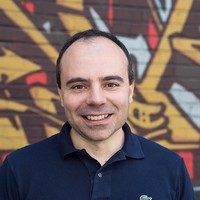 by Concordia President's Speaker Series on Digital Futures
– Director of L'Atelier XR at Ubisoft Montreal, Olivier Palmieri is also the official trainer of the Rational Design Methods in the company. Expert in Gameplay, Game Design & Level Design, and Virtual Reality, he provided training programs in game design methods and levels for more than 600 Ubisoft designers already in position.
Olivier has worked on various AAA projects (The Rayman series, Ghost Recon, Assassin's Creed, Far Cry, etc.). He is the creator of Eagle Flight, the first virtual reality game published by Ubisoft and winner of the D.I.C.E. 2017, award for technical achievement in immersive reality. He has been working in the video game industry since 1998, as a creative director, game director, level design director and international design trainer. His goal is to harness the power of virtual reality to create fun, intuitive and immersive experiences.
Date And Time
Mon, 2 December 2019
12:30 PM – 1:30 PM EST
Location
Concordia University Conference Centre
1450 Rue Guy
MB 9th floor Room CD
Montréal, QC H3H 1J5
This event is free.