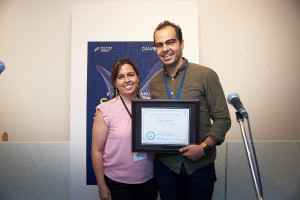 SALTISE Conference Graduate Student Award goes to…
Armin Yazdani
It is my pleasure to nominate my colleague Armin Yazdani for the 2019 SALTISE Graduate Student Award. I have known Armin for more than three years and it has been an absolute pleasure working with him. I met Armin when he presented at McGill's  Teaching and Learning Services (TLS) the results of his study conducted under the funding of the Weston Fellowship received in 2016. I was very impressed with Armin's presentation and, since then, I am very glad we have been able to develop projects together.
Armin is extremely knowledgeable in the field of Teaching and Learning in STEM, an interest  he has developed through his PhD studies in the field of Neuroscience. Armin has taken courses on Teaching and Learning in Higher Education and has conducted research in the Scholarship of Teaching and Learning along with attending conferences in this field. All this to highlight the commitment Armin has in learning about Pedagogy in STEM and in informing his work founded on evidence-based practices.
In addition Armin has been part of T-PULSE for more than 3 years.  He joined T-PULSE  in 2015, with the aim of better understanding the application of evidence-based education. TPULSE offers at least 10 workshops throughout the academic year (some of them duplicates in the Fall and Winter semesters), each with variable number of participants. As the lead, Armin was responsible for the management of the TPULSE team. This meant he had to demonstrate interpersonal relationship skills, organizational skills, and vision for the future of the group. He led our meetings, and was in charge of communicating with the TPULSE administrators/directors.
In 2018, Armin participated in benchmarking North American teaching centres for the nascent Office of Science Education (OSE). His pedagogical knowledge and passion led him to be selected for the Science student-staff team at the Change Institute for Students as Partners (SaP) in Higher Education. He participated in designing a plan to bring the SaP framework to McGill, and is integral in achieving this goal through activities such as compiling a report, integration of SaP into OSE, and the creation of the TEACH program for undergraduate students to collaborate in course development. While (re)developing modules for a Physiology lab course, he collaborated with the first TEACH awardee. Passionate about the Scholarship of Teaching and Learning, Armin attended the 2018 International Society for the Scholarship of Teaching and Learning conference, and continues to work with OSE on assessment of the effectiveness of pedagogical projects.
During the current academic year, Armin and I have been working on developing and conducting a Learning community of Graduate Students interested in teaching at the higher education level. This community is the first of its kind within the SALTISE S4 initiative. Armin's knowledge on the topic and, specially, on how to approach and work with graduate students has been key and exceptional. Armin has been a committed participant and presenter at SALTISE's annual conference and received a SALTISE mini-grant with McGill colleague Nathaniel Quitoriano in 2019.