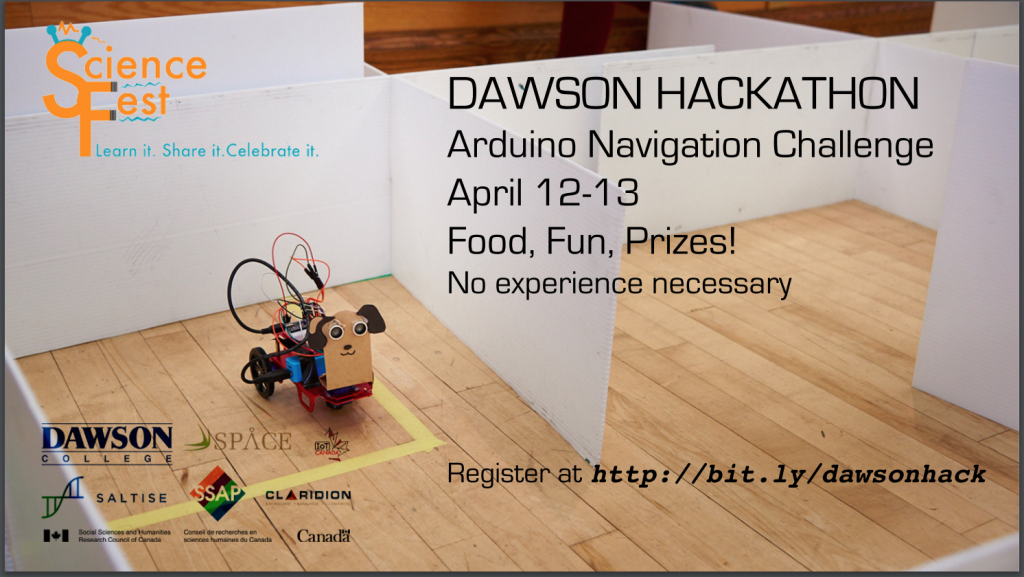 The Dawson Hackathon is a collaborative, interdisciplinary event where students work in teams to find creative solutions to a themed challenge. It's a fun and social learning experience with mentorship for all levels. No experience in programming or robotics necessary! 
Registration of individuals and teams until Thursday April 11th at 18:00. 
The challenge involves the construction of a micro-robot designed to navigate a course with obstacles and perform an unspecified task using the Arduino platform and sensors. Student teams (minimum 2, maximum 4) will be provided with a kit of components and precise instructions.
At the Friday April 12th kickoff, (17:30-22:00) Teams will learn about the precise details of the challenge, organize their projects, socialize, receive preparatory mentorship and see presentations.
Saturday April 13th is challenge day, (10:-00-21:00) Teams present their projects at the end of the day to judges and mentors with amazing prizes from our sponsors going to winners in different categories.