Course Level
The Course level assists users in visually describing the flow of the content, and importantly, aligning learning objectives/outcomes to this content.
Course components: Allows users to describe three components of the course content, with an easily added fourth:

Preparation (prerequisite content or assumptions about what the students know or should know to work in the lesson)
Activities (lessons, labs)
Assessment (quizzes, tests, exams, papers, etc.)
Artifacts (assignments, lab reports, etc.).
The Assessment and Artifacts could be used to differentiate between formal (summative) or informal (formative) evaluations.
Learning outcomes/objectives: Allows users to consider three levels of learning involved in describing a course:
Program level

Describes the intended global learning outcome(s) of the course, as it is situated within a Program of study. The user can choose how they wish to describe these. For instances, they could be considered Program Outcome (often the term used at universities) or Competencies (the term used at Quebec colleges).

Course level

Describes the intended learning outcome(s) for the course in question. The user can choose to describe these as outcomes or objectives. Generally, these are between 3 – 5 main outcomes/ objectives.

Activity level

Describes the intended learning outcome(s) for any of the components of the course: activities (lesson, lab, series of lessons (module), etc.), assessments, preparation or artifact.
The sections of each workflow (Course, Activity/Lesson, Program) are the same, but the specific components within the Workspace and Tool Panel sections are different because they serve different needs within the relative workflow level.
To access the Course Level Workflow page, refer to Get Started section or through the Project Navigation Panel.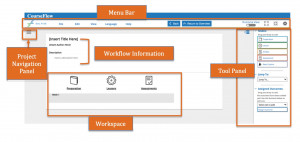 1. Course level Workflow Information
This same information is required at all levels
Insert Title Here: Select and type in the title of your course
Insert Author Here: Name of the author (e.g. your name if you are creating the workflow)
Description: Add a description or other details relevant to your course. You can also add links in this section
2. Course level Workspace
Each level has a workspace but the section columns are different
By default, a course is made up of three columns – Preparation, Lesson, Assessments – the fourth "artifact" can be added if needed with a drag and drop action. You can add more columns by using New Custom
Column sequence can be changed by selecting the top icon and dragging it to the preferred column.
Column titles – Preparation, Lesson, Assessments, etc. – can be edited
– Week 1, Week 2 text can be edited – A course is by default organized into weeks. For users who prefer to plan their course by topic or by class, the "weeks" can be renamed by double clicking on the text.
3. Course level Tool Panel
The sections of this panel are different for each level. See Course Level Panel sections below.
4. Project Navigation Panel
This panel is available at all levels.  You can toggle to other workflow levels (Course, Activity/Lesson, Program) that are part of your project or go to a level and create a new workflow.

5) Menu bar
This will be the same on all levels (Activity/Lesson, Course, Program)

a. Menus – For explanations see below
b. Back – takes you back to previous page.
c. Return to Overview – Takes you back to the Project Overview page
d. Outcome View – Toggles from the Assigned Outcome page and back to the current workflow
e. Icons: open nodes, close nodes, gear (options: Advanced Outcomes, Link Tagging Enabled)
a. Menus
File
New Project – Creates a new project, clearing any unsaved data.
Save Project – Saves the current project, giving the file a default name identical to the project title. File will be saved to your Download folder, and should then be moved into a local directory of your choice.
Open Project – Opens a project from your computer.
Save Read Only – Option functions identically to the "save read-only", meaning students can't make changes to the content
Export Current Workflow – Exports workflow on your screen and any workflows /outcomes connected to it.
Export as CSV – port or import outcomes in a csv format. This was requested in order to be able to export outcomes into course outlines without having to rewrite.
Export Embeddable HTML – This provides html code that can be added to an LMS, such as Moodle.
Import a CFlow file – Imports a workflow generated with Export Current Workflow or an entire project, appending it to your current project without overwriting any data.
Import Outcomes CSV – A comma-separated values (CSV) file format can be imported to and exported from apps and programs that store data in tables.
Edit
Undo/Redo – Undoes/redoes the most recent change to a workflow. This function may take some time to execute.
Duplicate Current Workflow – Creates a copy of the currently active workflow or outcome.
Workflow settings (under development)
View
Expand/Collapse All Nodes – Expands or collapses all nodes within a workflow, showing or hiding the descriptions.
Printer Friendly Version – Opens a new tab with printer friendly version of the currently active workflow. Can be used to export to pdf. NOTE: Printer version app is not compatible with some browsers.
Show/hide Legend – Provides a description of the icons that appear on a node (see nodes for more information)
Toggle Outcome View – Enables you to toggle from the workspace to the outcomes listed for a course/activity. See Outcomes
Terminology – By default the app is set at standard. Select CEGEP for terminology specific to the Quebec college system
Course Level Tool Panel Sections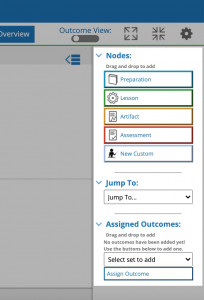 Tool Panel icon – Toggle to show / hide a workflow's Tool Panel (nodes, assigned outcomes, etc..)
Nodes: What are Notes? Nodes are the Workflow building blocks representing "who is responsible" for the work to be done and the "types of tasks". The nodes at each level are different reflecting the needs of the workflow level.
As with the other levels (activity/lesson and program), nodes are dragged and dropped onto the workspace (grey area) under the appropriate columns.
Preparation – Can indicate tasks such as readings and other things an instructor must do to prepare for a lesson, class or activity
Lesson – These can be activities, labs or any unit of instruction which form the back bone of the course.
Assessment – This allows for descriptions of the materials used for assessments, and to indicate where within a course, students are being evaluated.
Artifact – Allows for descriptions of the types of things students will be asked to produce
during the lesson or course. Examples worksheets, drawings, lab reports, etc. NOTE: While this box is not included at the start it is easily added to the workspace with a drag and drop action
New Custom – Enables the user to create a unique column with corresponding nodes
Jump to: When you create weeks for your course you can use this feature to jump to that section.
Assigned Outcomes: This is how you assign Learning Outcomes to nodes within your workspace. This will be described in more detail below.
How to Build a Course
Once you have accessed the Course Level Workflow page follow the instructions below.
Workflow Information: Type in the course information – title, author, description
Tool Panel: Select a node from the Tool Panel section – Preparation, Lessons, Assessments, etc..
Workspace: Drag the node to the Workspace section (grey area) and drop it in the appropriate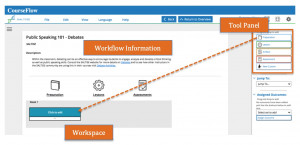 Adding and Moving Nodes
To add more nodes, continue to drag and drop the nodes where you want them on the workspace. (e.g. The lesson node will atomically be placed in the Lessons column, etc.)
Once dropped they can easily be moved from column to column and up and down levels within the workspace section.
Adding Columns
As previous mentioned by default the Course Level has 3 columns which can be modified.
The Artifact column is not included at the start, but it is easily added to the workspace with a drag and drop action. Once an Artifact node is dragged on the workspace section it will create a 4th column
Adding a custom column. To allow users to customize their course level workflows the app has a New Custom node – once dragged and dropped it will create a new column which can be renamed and positioned. Note you can add multiple columns.
Adding Lines between Nodes
Unlike the activity/lesson level, nodes are not linked by default, as the relationship between nodes is not as simple. Links (lines) between nodes have to be made by the user and should be used to illustrate the flow of course content and pedagogy.
Link nodes (add lines) – Click on the handle (dot) , which appears when the node is hovered over, and drag it to connect to the handle of another node. This will create a line that ends with an arrow.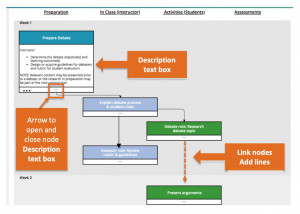 Manipulating Nodes
Moving Nodes – Nodes can be moved between columns (with a few exceptions) or rearranged in time by clicking and dragging the node.
Deleting Nodes – Nodes can be deleted by clicking the "X" icon which appears in the top right corner of the node when hovered over.
Cloning Nodes – Nodes can be cloned by clicking the copy icon which appears on the right-hand side of the node when hovered over.
Description text box- The description can be displayed by clicking the drop-down arrow at the bottom of the node. This text box is where you can add information about the work and or tasks to be done. You can also add links to this section
Resizing Nodes – Once the drop-down text box has been displayed, the size of the node can be altered to show the full description.
Click on a node
Edit Node panel appears
To remove (hide) edit node panel click anywhere on the screen.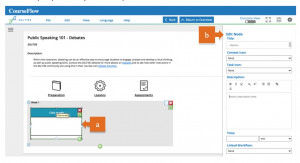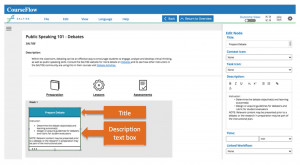 Edit Node Panel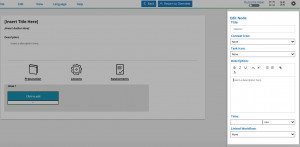 Content added on this panel appears on the selected node
Title: What is typed here appears in the node coloured box
Context Icon: Used to denote type of student assessment (e.g. Formative, Summative). Once selected the corresponding icon appears on the node coloured box beside the title.
Task icon: Provides a list of learning strategies icons that can be applied to a Course workflow node to indicate the strategy that is being applied (e.g. Jigsaw, Gallery Walk)
Description (node text box): This space can be used to elaborate on the tasks, provide links to materials, quizzes/questions. Content here appears below the node title coloured box. Note: This portion of the node is hidden by default, however it can be toggled open by clicking on the arrow at the bottom of the node. Once this portion is shown, it can be resized manually to accommodate more text. (see Manipulating Nodes above)
Time: You can allocate time to a specific node. It will appear at the bottom of a node
Linked Workflow: This enables you to link a workflow to this node. For example, a node in a Course Workflow can be linked to an Activity/Lesson workflow to denote that activity is used here within this section of the course. Double clicking on the node will automatically open the linked workflow.
Further Readings