Congratulations to our 2021 award recipients
The SALTISE "Best Practices & Pedagogical Innovators Award" recognizes educators who stand out as leaders in the promotion of academic excellence, use of innovative pedagogies, and support of their academic communities. For the last 9 years these annual awards have recognized instructors (college and university) who stand out as leaders in our communities. Individuals who motivate students to learn, use evidence-based pedagogical approaches in their classroom, and contribute to their local settings by mentoring and supporting colleagues, formally and informally – workshops, talks, coaching, etc.
This year, for the first time, we are pleased to announce we have broaden the scope of the Awards to include our colleagues from teaching and learning centres. These individuals go by titles such as Education developers* or pedagogical councillors*.
College-level Awardee: Carmen Leung
Educational Designers Awardee (individual): Andrea Cooperberg
University-level Awardee: Saul Carliner
Educational Designers Awardee (team): Dawson Faculty HUB
Carmen Leung – Dawson College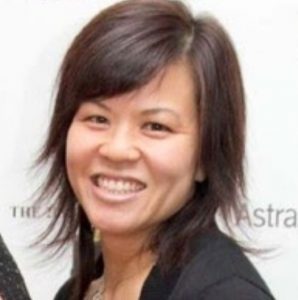 Carmen Leung is an instructor of Chemistry at Dawson College. For over four years, she has been involved in the work of community-building as part of the Dawson Active Learning Community (DALC) and the SALTISE community of practice; and she has served as a SALTISE Fellow, providing mentorship to peers. She has been a champion of innovative tools such as myDALITE and CourseFlow, co-authoring over 600 questions for the online peer-instruction platform myDALITE and including them in her course curriculum and homework. At the same time, she ensures that these new tools are meaningful to her students' learning by assessing their use.  
She dedicates herself to teaching in ways that keep her students engaged and she contributes to all aspects of College life. She significantly improved labs by using techniques such as 2-stage exams, which is proving to reduce students' stress and improve mental health.  Her initiative and sense of community led her to co-create three series of pre-lab experimental videos that have helped Pre-university Chemistry students better prepare for their laboratory periods and increase awareness of potential chemical hazards. These videos have reached beyond the walls of Dawson College and accumulated over 100,000 views, to date.
During the COVID-19 pandemic, Carmen Leung invested significant time and effort to design new ways to support and accommodate the new demands of online instruction for both students and colleagues. She co-created the Student Evaluation Survey, using myDALITE, to assess the needs of high school science students entering college and provide them with valuable resources to solidify their prerequisites. She also co-created eight chemistry at-home experiments (CLAW) to provide hands-on experience to students while access to the laboratories was limited; these can be found on the SALTISE website. Carmen is a true faculty innovator!
Saul Carliner  –  Concordia University

 Saul Carliner currently serves as Graduate Program Director of the Educational Technology program in the Department of Education and the Graduate Certificate in University Teaching and Continuing Education, through the School of Graduate Studies at Concordia University. He teaches central courses for the Graduate Diploma in Instructional Technology and MA in Educational Technology at the Department of Education and is a recipient of the Jay Gould Award for Excellence in Teaching and the Concordia University Alumni Teaching Award.
Saul Carliner continually innovates and takes advantage of the latest technologies and pedagogies such as workshopping and flipped classroom, to name a few. Having served as Director of Concordia's Department of Education doctoral program for five years, he developed and documented the procedures in the program and facilitated inclusive curriculum revision processes including major restructurings of the comprehensive exam and the overall curriculum. Enrolment in the program grew while he was director. During the COVID-19 pandemic, he has organized and co-organized a number of student-centered activities, including Grab Bag networking night and EdTech Heroes.
---
Andrea Cooperberg  –  John Abbott College

Andrea Cooperberg is a pedagogical support and innovation specialist at John Abbott College. In this role she has been instrumental in guiding instructors and helping them navigate the online educational environment. Andrea has been a constant and reassuring presence throughout the trials, tribulations, fears, and frustrations brought about by the pandemic and pivot to online teaching. Her steading influence has helped faculty achieve successes despite the challenging times. Throughout her career, Andrea has demonstrated inspirational and innovative pedagogical practices, dedication, and resilience. At the same time, her pedagogic, academic, curricular, and institutional experience have been invaluable as she supports those who require her assistance.
Her patience, confidence, and ever present commitment has kept instructors reassured and steadfast throughout the uncertainty. Andrea has become the lead in John Abbott's COVID-19 task force for the Faculty Online Support Team (FOST). Throughout the last year she has conducted online workshops and drop-ins sessions to train faculty on new and ever changing digital platforms and systems, while supporting the use of alternative assessment strategies, and the adapting of pedagogical practice. Andrea's workshops were welcoming, supportive, and interactive – a place where instructors were exposed to authentic examples of pedagogical solutions that help to promote student engagement, participation, and learning. Her efforts and mentoring have promoted a sense of well-being among John Abbott's faculty and given them the confidence to transform their teaching.
The Dawson Faculty HUB  –  Dawson College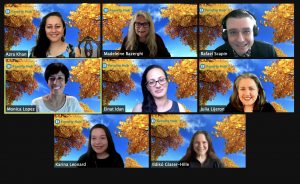 The collaborative and innovative pedagogical counsellors from Dawson's Faculty Hub, Madeleine Bazerghi, Ildikó Glaser-Hille, Einat Idan, Karina Leonard, Julia Lijerón, Monica Lopez, Azra Khan and Rafael Scapin have been instrumental in providing inter-service support to faculty on course design, student engagement, assessment, technology, one-on-one consultations and more.
Launched in January 2020 the Faculty Hub quickly pivoted its focus two months later to developing solutions to support teachers as they shifted to online instruction. By pooling their pedagogical knowledge and their experience as teachers, they were able to anticipate faculty needs and provide essential support. Among their many achievements, they developed a Moodle course to help teachers teach with Moodle, organized and/or delivered over 70 webinars that modelled strategies for online teaching, prepared guides for using Zoom video conferencing software, and for shifting teaching materials online. By fall 2020 their focus has been on curation and development of webinars and resources related to student engagement and assessment. These webinars and resources have been made available and accessible to the College Network. Their collaborative working spirit and innovation has been a shining example throughout this past year!
---
Past recipients of the SALTISE Best Practices & Pedagogical Innovators Award 
2015
2014
Kevin Lenton (Vanier College)
Sean Hughes (John Abbott College)
2013
---
*NOTE – Educational Developers or pedagogical councillors: Can include, Instructional Designers/Developers, Teaching Consultants, Curriculum Developers, Learning Experience Designers, Online Course Designers, and Academic Associates