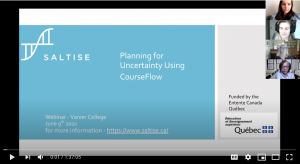 These past ten weeks have been some of the most stressful and exhausting we have lived through as teachers. COVID-19 forced us into an emergency remote teaching reality few were prepared for. As professionals, we rose to the occasion with our best efforts and we survived this time. It is clear that we are not past the impact of this pandemic and we now must plan for a Fall 2020 semester, filled with uncertainty.
Now more than ever, we can learn from one another while sharing strategies and resources, tips and tools. Today's panel of three teachers, each using a different modality of online instruction (synchronous, asynchronous, and mixed), will describe how using the CourseFlow tool helped them to move their courses online and aided them in solving problems of planning and mapping out day-to-day activities for their students. The objective of the workshop is to provide participants with a starting point and information about CourseFlow, with the hope that it will be a useful tool in their own planning for the new reality.
CourseFlow is a pedagogical planning tool and interactive application that scaffolds the instructional design process for instructors at the same time as facilitating the sharing of student-centred practices. In practical terms, the tool helps users to visualize and create dynamic course outlines and lesson plans that can be easily modified and examined. CourseFlow is a SALTISE funded project. It was developed by Jeremie Choquette, in collaboration with Liz Charles and part of an inter-institutional research project. It is a free tool that can be accessed through the SALTISE website.