Congratulations to SALTISE associate Dr. Claire Trottier winner of the Maude Abbott Prize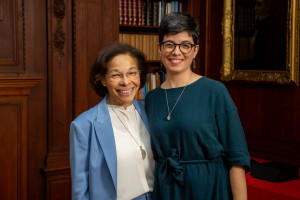 Author: Matthew Brett
Posted on: McGill Faculty of Medicine Electronic Newsletter (Med e-News)
Dr. Claire Trottier, long time associate of SALTISE, was presented with the Maude Abbott Prize for her outstanding contribution to the Department of Microbiology and Immunology (MIMM), Faculty of Medicine at McGill University (November 25, 2019).
At the ceremony SALTISE Co-director Dr. Liz Charles was honoured to be present for this important event. As one of our key members Dr. Trottier has provided SALTISE with a vital and ongoing connection with McGill University.
The Maude Abbott prize was established in 2010 by the Faculty of Medicine to recognize outstanding female Faculty members who excel in Education, Research or Administration with a focus at the early career stage.
(Content source: Med e-News – 2019 Faculty award recipients celebrated)