SALTISE collaboration adds to the Network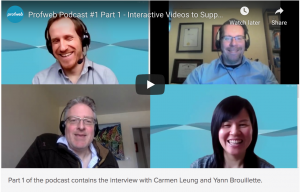 Hope you are all keeping well and staying healthy as we continue into the eighth week of isolating.
I thought we'd share a little good news about a collaboration between SALTISE and ProfWeb.  This podcast features faculty from Dawson (Carmen Leung and Yann Brouillette) in conversation with Ryan Moon (ProfWeb) and Kevin Lenton (Vanier & ProfWeb).
Carmen and Yann present how to use the "locked potential" of simple technologies (Moodle, H5P, etc.), as well as our very own myDALITE platform, to produce high quality online learning instruction for students (delivered asynchronously or synchronously), all informed by evidence and research on how to design for learning.
This podcast is the first in a series and is a wonderful example of the power of our Quebec Network. I'm incredibly proud of these individuals and how they have captured the core nature of SALTISE, i.e., collaboration among peers.
Read More
Stay tuned for future posts!
Sending best wishes to all,
Liz Charles & Nathaniel Lasry
SALTISE Co-directors