SALTISE 8th Annual Conference Attracts Record Number of Attendees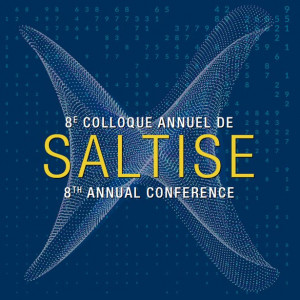 The 8th Annual SALTISE Conference focusing on Promoting Deeper Learning: From Analytics to New Strategies attracted over 520 attendees this year from Quebec, across Canada and overseas.
This year the conference recruited a roster of prominent keynote speakers and panelists on the exciting topics of augmented intelligent tools stemming from innovations in Artificial Intelligence, Learning Analytics, Virtual Reality, and Natural Language Processing.  
Additionally, our presentations featured speakers from the world of educational research and practice, reporting on their findings from both principled implementations of evidence-based pedagogies and formal research. In total, the program consisted of over 75 thoughtful presentations including symposia, individual talks, interactive sessions and posters, and workshops.
Artificial Intelligence (AI), David Usher of Reimagine AI, founder, and winner of 4 Junos
Learning Analytics, Alyssa Wise of New York University (NYU) Steinhart School of Culture, Education and Human Development and Director of LEARN (Learning Analytics Research Network)
Virtual and Augmented Reality (VR/AR), Olivier Palmieri of Ubisoft, Director of XR Workshop & Game Director

Something different we did this year, check out our Special Panel Discussion: Augmentation in the Age of AI