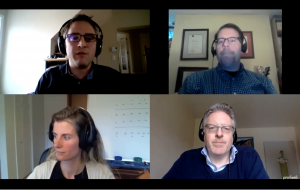 SALTISE collaboration adds to the Network
More good news about the continuing collaboration between SALTISE and ProfWeb.  This podcast features faculty from Vanier (Rhys Adams) and John Abbott (Phoebe Jackson) in conversation with Ryan Moon (ProfWeb) and Kevin Lenton (Vanier & ProfWeb).
Rhys and Phoebe present how to use CourseFlow an an interactive and dynamic app that allows for interactive instructional design at three levels of pedagogical planning: (1) activity level (lesson), (2) course level and (3) program level.
Both Phoebe and Rhys talk about their experience of going online this spring and how they managed to keep track of their online course content and pedagogy. It's a really good example of how CourseFlow can help teachers with the planning of an online course.
This podcast is the second in a series and is a wonderful example of the power of our Quebec Network. I'm incredibly proud of these individuals and how they have captured the core nature of SALTISE, i.e., collaboration among peers.
Read More
Stay tuned for future posts!
Sending best wishes to all,
Liz Charles & Nathaniel Lasry
SALTISE Co-directors