SALTISE (Supporting Active Learning & Technological Innovation in Studies of Education), and S4 (Systems, Supporting, Student Success) is a learning community service that brings together instructors and professional development staff from English and French educational institutions within the greater Montreal area, as well as other regions of Quebec. The key goals of SALTISE/S4 are based on the ideals of implementing evidence-based pedagogy involving instructional innovations and often leveraging the use of educational technology to promote improved learning.
Objectives
SALTISE/S4 organizes events and workshops designed to aid the education community and all who are interested in developing ways to encourage greater student engagement leading to learning. Increased student engagement leads to a more successful pedagogy.  SALTISE/S4 has hosted international and national scholars, as well as provided opportunities for local experts to share best practices in the area of active learning pedagogy and the use of technology. Over the years, these activities have brought together hundreds of instructors from around Quebec.
SALTISE/S4 members have presented their expanding repertoire of best practices at conferences in Quebec, across Canada, and internationally. SALTISE/S4 members are among some of the most dedicated instructors and have won provincial and national awards for their inventiveness, design of pedagogical innovations and community building – e.g., the Shifting Minds National Award from the C21 Canada; Canadian Association of Physicists teaching award (2011 & 2013); and the Society for Teaching and Learning in Higher Education College Sector Educator Award 2012 & 2016, among others.
Funding | Who's Who at SALTISE | What we do – Conference, Awards, Innovation, Resources, Community outreach| Purpose of our Website
---
Funding
SALTISE began as a two-year Chantier 3 inter-order grant1 funded by Quebec's Ministry of Education, Sports and Leisure (MELS)

Grant title: L'appel à la technologie et à l'innovation pour parfaire l'enseignement des sciences, grant #1126.

Grant written by: Professors Robert Bracewell, Gail Seiler & Roger Azevedo (McGill's Faculty of Education); Professors Elizabeth S. Charles & Silvia d'Apollonia (Dawson College); Professor Nathaniel Lasry (John Abbott College). Collaborators: Professor Ken Ragan (Faculty of Science, McGill); Professors Marielle Beauchemin & Kevin Lenton (Vanier College); Murray Bronet (John Abbott College); Chris Whittaker & Suzanne Kunicki (Dawson College).

Grant awarded: 2011-13
SALTISE/S4 owes its continued existence to funding from the Entente Canada-Québec funding agency. This provincially managed, cross-Canada program, supports education-based initiatives for minority language and second language education projects that promote improving the quality of education for students of the linguistic minority and conditions learning second languages.

Grant title: Active Learning & Pedagogical Innovation Center (ALPIC). French title: Centre d'apprentissage actif et d'innovation pédagogique.


Grant written by: Professors Elizabeth S. Charles (Dawson College) & Nathaniel Lasry (John Abbott College), grant held by Dawson College in collaboration with John Abbott College.

Grant awarded: 2014-15; 2015-16; 2016-17
1 Chantier 3 is considered the Projet Interordre – Programme de collaboration universités – colleges. The Project title: L'appel à la technologie et à l'innovation pour parfaire l'enseignement des sciences.
Who's Who at SALTISE
Executive Members
SALTISE's organizational structure is composed of 13-members: two Directors and 11 Executive Committee members. The aim of this structure is to have representatives from all of our participating institutions. With that, the number of members on the Executive Committee is not rigid but is intended to be expanding.
Directors
Dr. Elizabeth Charles
Prof. Michael Dugdale
SALTISE Office
Suéli Bonafim
Janaya Gripper
Executive committee
What we do
Conference
SALTISE hosts international and national scholars, and provides opportunities for local experts to share best practices in the area of active learning pedagogy and the use of technology through our annual conference. Check out our past conferences 
Due to the COVID-19 pandemic the 9th Annual SALTISE 2020 conference was cancelled. However, the Conference Committee decided to create a Program featuring the accepted proposals to keep the spirit of our annual gathering alive. 
Awards
2021
2015
2014
Kevin Lenton

 (Vanier College)

Sean Hughes (John Abbott College) 
2013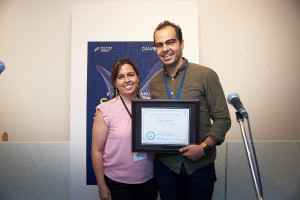 The SALTISE "Student Award" recognizes students who stand as contributors to the SALTISE community through the promotion of academic excellence, use of innovative pedagogies in their role as Teaching Assistants (TA), Research Assistants (RA), Course Lecturers and other tasks that support and/or are consistent with the goals of the SALTISE community.
2021
2020
2019
Innovations & Resources
Distributed Active Learning Integrated Technology Environment —myDALITE— is a free open-source web-based platform that promotes conceptual learning. Its pedagogical foundations are guided by social learning and based on learning principles and practical know-how.
myDALITE has a growing database of questions in subjects ranging from chemistry to the humanities. It is funded by the SALTISE/S4 grant and aims to be the home of an open-source community offering high-impact high-quality learning resources built for teachers by teachers
The CourseFlow System (CFS) is an interactive and dynamic tool developed by the SALTISE/S4 team that allows for instructional design and pedagogical planning at (1) the lesson level (activity or lesson plan), (2) course level, and (3) program level. In practical terms it may be considered an interactive and dynamic course outline and lesson planning tool.
Active Learning (AL) classrooms are spaces designed to facilitate the implementation of active learning pedagogies by supporting collaboration between students. Often, ALC are technology-rich learning spaces featuring computing devices, installed or brought into the room. SALTISE members, primarily at Dawson College and McGill University, have made considerable contributions to the design and research of active learning classrooms.
Community Outreach
Learning Communities & Partners
Associated local communities and partners who promote evidence-based instruction, new pedagogies, and develop best practices.
Explore our Learning Communities
Mini-grants
The aim of the SALTISE Mini-Grant program is to support efforts to develop materials and tools that enrich the students learning experiences and promote the use of active learning instruction at the post-secondary level. Eligible individuals include faculty, instructional designers and professionals; and, post-doctoral and graduate students working with eligible faculty in Quebec
Learn more about the SALTISE mini-grant program here.
Check out the mini-grant projects SALTISE has supported here.
Innovators – Members of the SALTISE Community
SALTISE is a community of educational researchers, post-secondary instructors and faculty developers, across Montreal and the Province of Quebec who actively promote national and international collaborations and partnerships. Our common interests are the exploration and implementation of evidence-based innovations in pedagogy and educational technology.
Purpose of our Website
The SALTISE/S4 website is intended as a resource for its members and all who are interested in exploring ways to better implement evidence-based pedagogical practices. The tools, articles, activities, and technologies presented represent the best of our promising practices along with accomplishments and resources produced by members. Lastly, the website is a showcase of SALTISE/S4 sponsored events, most notably our Annual Conference, held in June and hosted by one of our member institutions on the island of Montreal. All information presented within the website is shared freely and not intended for any monetary gain.
For more information refer to our Terms of Use.